CONVENIENT       
AFFORDABLE       
SUSTAINABLE
Quality service and excellent value.

We work hard to provide a quality service for companies, councils & householders to recycle their unwanted bulky waste rather than send it to landfill. We already work with a number of local authorities across the country, and many retail outlets to improve their recycling rates across Ireland.
All recycled items benefit the environment and reduce the high dependency on landfill.
Go green! Work with us!
We ensure that all recyclable materials are properly disposed of and re-used. We care for our environment and push towards a greener service than our competitors.
About Us
I would highly recommend these guys, they helped me out so much today with an emergency. Well done Martin and crew and thanks for delivering and making sure everything was ok and on time, A happy family today.
Louise Ni Challanain
Brilliant service! Had no idea they collect all the things they do! Got a wee leaflet when they picked up my toddler bed mattress. Super handy, picked up at my door and I know it's being dealt with properly and not going to a landfill. 100% recommend to anyone looking to get rid of a mattress! Arrived on time and no messing!
Corinne Rushe
I would highly recommend this lot. Great service from start to finish. One phone call and I had a time for collection for the next day. I happened to be at home on the day and met the team. They were very polite and friendly. I will definitely recommend to my friends and family.
Joanna Corcoran
Bounce Back Recycling deconstruct the mattresses and furniture by hand. This is very labour intensive and time-consuming process. It produces a higher rate and quality of recyclable materials recovered, compared to alternatives involving shredding or landfilling.
LATEST NEWS OF OUR SOCIAL NETWORKS
Bounce Back Recycling
In 2021, we collected 944 mattresses during the Amnesty Day organized by Westmeath County Council in partnership with Bounce Back Recycling.

This is the equivalent of XX tons of waste.

Mattresses that end up in the landfill only start to decompose after 15 years, recycling this mattresses will reduce the demand for landfill space which helps protect our forests, rivers and lakes.
Bounce Back Recycling
Are you looking to buy a new mattress in Sligo?

We are delighted to announce Mc Ternan Carpets & Bedding as one of our retail partners.

Next time you buy a mattress at McTernan Carpets, you will be contributing to a greener and more inclusive economy.

Are you looking to buy a new mattress in Sligo?

We are delighted to announce McTernan Carpets as one of our retail partners.

#RecyclingIreland #Sligo #SocialEnterprise #BounceBackRecycling #EnterprisingForSocialChange https://t.co/vMLRorozeQ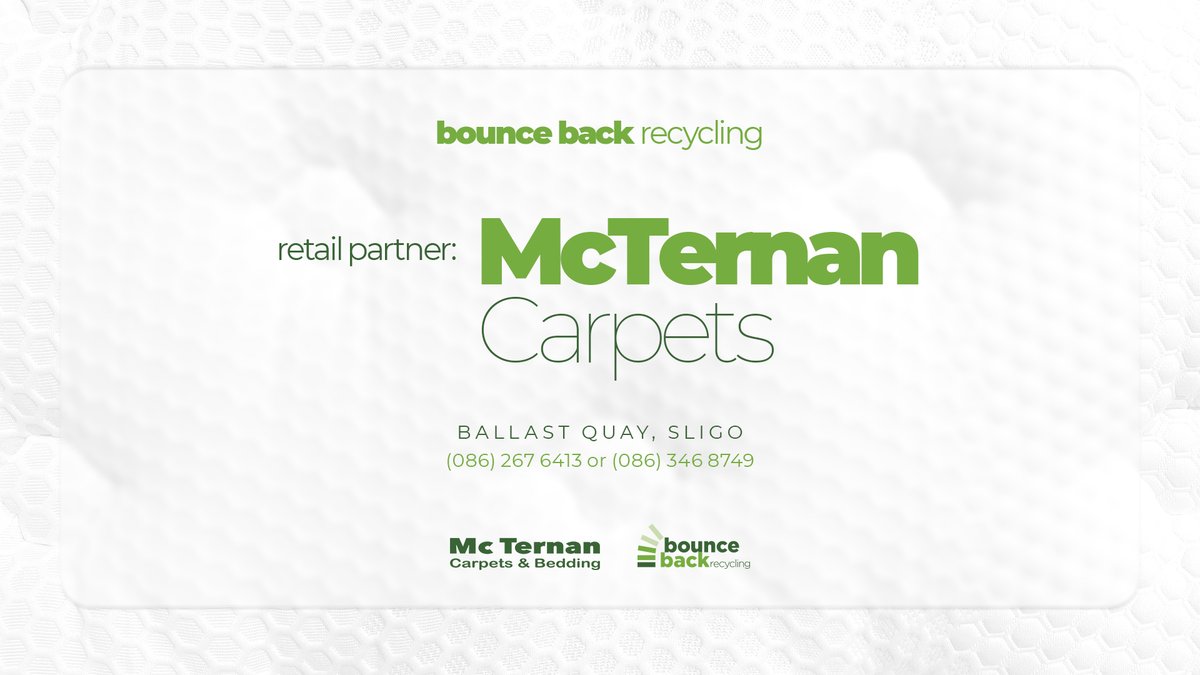 We are resuming our daily and weekly collections!
If you want to recycle your old mattress or unwanted furniture book a collection on our website or call us at 091 760877 ♻️🚚
#RecyclingIreland #Ireland #SocialEnterprise #EnterprisingForSocialChange https://t.co/v6lhNZWOrM